WHY DO WE RESIST GETTING THE HELP WE NEED WITH VOICE
& HOW TO KNOW WHAT'S BEST FOR YOU.
Why do we resist getting the help we need - even when our vocal issues persist and our vocal questions go unanswered?
Is it that we value our independence and autonomy so much that we're determined to prove to ourselves and others that success can be achieved without help. Or perhaps it's pride and ego that are playing a role in resisting help for fear that accepting help will point to weakness in some way.
It didn't take long to get around to fear. Of trying and failing or fear of relying or becoming dependent on others. Previous negative experiences are often to blame for fear or resistance in finding the help needed to overcome those vocal obstacles. Perhaps at some point you may have felt patronized, belittled even as a child. That can leave a sour taste.
Does accepting help mean loosing control in some way or giving up some of what you've already worked so hard for? It shouldn't nor should anyone be in charge of your own voice. That's why we believe in the voice YOU want.
It can be tricky to know if the help offered will actually fix or improve things or not. Airing on the side of caution and being better safe than sorry does protect us but can often blinker us also. Does the help offered seem to have the same goals or visions of success when it comes to voice? Can you trust this help, from this person?
How to know what's best for YOU.
Maybe take a little time to think about your strengths, weaknesses and what are your goals, both short and long term when it comes to voice. Consider what truly matters and what would make the difference for YOU.
Does the help offered talk about the voice YOU want. Will the help offered build upon and enhance your knowledge and abilities or if someone else is just trying to turn you into something else.
► Click above and see others like YOU on our courses getting the answers they're looking for.
You've researched and gathered information about the various teachings and systems out there but now it's time to choose among the sea of ideas out there what would be best for YOU.
Talking to others really helps but chances are if you're looking at something new you may not know anyone to ask. That's where testimonials come in.
There should be those who say things you can relate to who describe what happened to them. Look out for those who are also singers, choir leaders, actors or speech and language therapists etc like yourself.
You should be able to get a good idea about the person or people you're looking to invest your time and money in. Also check for recent additions that show if what's going on right now will be just the right fit for YOU.

► Nothing stock with us - All our photos & videos are of real people like YOU on our courses.
► Get on the next course that's a fit for YOU, click below.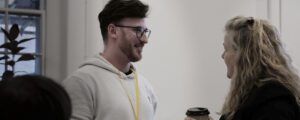 WHO CAN YOU TRUST WITH YOUR VOCAL GOALS? There are of course several factors to take into account ...